Holiday Campaigns are a great way to create awareness, increase engagement, and generate leads. They can also be used to reward customers, to show your appreciation for their loyalty.
This article will explain how American Bankruptcy Institute (ABI) used Uberflip to create two successful Holiday Campaigns within a couple of weeks.
ABI's Campaign Idea
ABI decided to create two separate Holiday Campaigns, one targeted towards their prospects, the other towards customers. The goal for these campaigns was to heighten visibility with prospects, and increase engagement with their customers. The campaign was titled "12 Days of Holiday Gifts." Starting on December 7th, their visitors would have access to open one gift each day, for 12 business days. These gifts included discount codes to their book store, events, access to best practice podcasts, and invitations to exclusive meetings.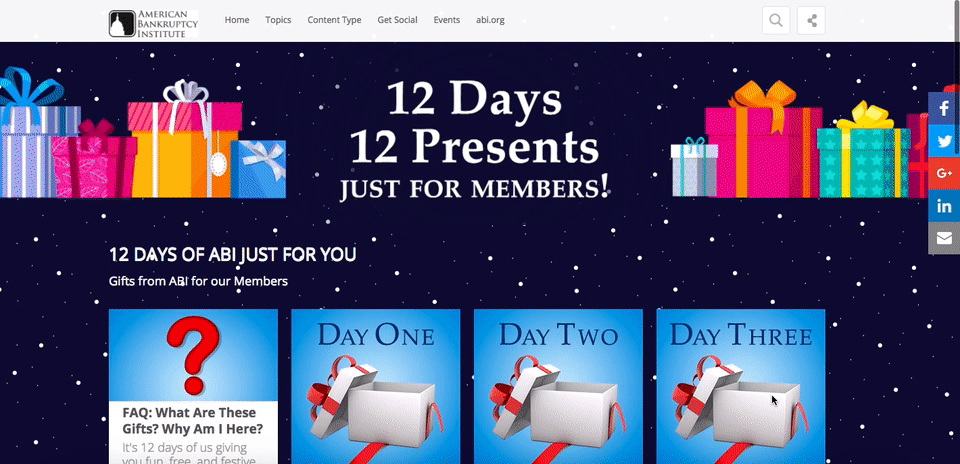 ABI used the following Uberflip features to create their Campaign:
2 hidden marketing Streams, one for prospects, the other for customers.

1 explainer blog post that lived at the beginning of both Streams.

12 Link CTA's for each day of giveaways (8 gifts overlapped between prospects and customers).

12 blog posts behind each CTA, announcing the gift.

1 CTA placed at the item and Stream level to get people signed up for their newsletter.
How ABI Drove Traffic to both Streams
They used a combination of email campaigns and social media promotion. They sent separate emails to customers and prospects directing them to the appropriate Stream, and used social media to promote only the prospect campaign. ABI sent follow up emails reminding people to go back into their bookstore to purchase more books. They also plan to send another "catch all" email to offer everything one more time in January.
The Results
27% response rate for prospects, with a 100% completion rate.

Doubled traffic on their bookstore, compared to regular monthly newsletters.

Sold $1050 worth of books on the first day.
If you're thinking of doing a Holiday Campaign, here's what Robin Davis the champion of ABI's campaign recommends:
Plan - give yourself at least 2 weeks to set this up.
Have one person be the leader of the campaign, to prevent other team members from messing up the flow.
Prepare the graphics ahead of time - "the CTA image cropper was a life changing moment for us," says Davis.
Make sure you have enough CTA's in your account before you start.
Become best friends with your coach!
Make sure to contact your customer success coach, and start planning!