One of the most powerful aspects of Uberflip is that it enables you to leverage the same content asset in unlimited content experiences. Once you publish an asset, you can (and should) be resurfacing it in multiple other content experiences across your buyer journey.
Putting content in more than one place can increase views by 8x on average!

The Content Experience Report, Uberflip
To help make this easier for you, we've just added a new way to help you manage your content assets in Uberflip. With the Item Management Dashboard, you can now search for individual content items by type, tag and keyword and edit or move them to new Streams, all from a single screen.
Simple, yet powerful, this feature will help you:
Find The Right Asset Quickly
Say goodbye to having to locate the correct Stream to find a single content asset. You can now easily filter and search all of your individual assets by type, tag and keyword.
1. Search by type - Refine your content search by the content types you've centralized in your Hub. For example, all of your blogs, videos, or Flipbooks.
2. Search by keyword text - type any text into the search bar that may be in the title or description of your content item.
3. Search by tag - leverage internal content tags to quickly find assets related to a particular topic, industry, persona, etc.
Discover more ideas on how to tag your content.
4. Sort by attribute - sort your content by Name, Author or the dates they were Published or last Updated.

Easily Add Content to More Streams
Start resurfacing more of your existing content by adding it to Sales and Marketing Streams. Adding items to new experiences can now be done in a couple of clicks, without having to leave your page.
Click the number icon under the Streams column. From here, you can see all of the Marketing and Sales Streams this item lives in + add your item to more existing Streams in your Hub.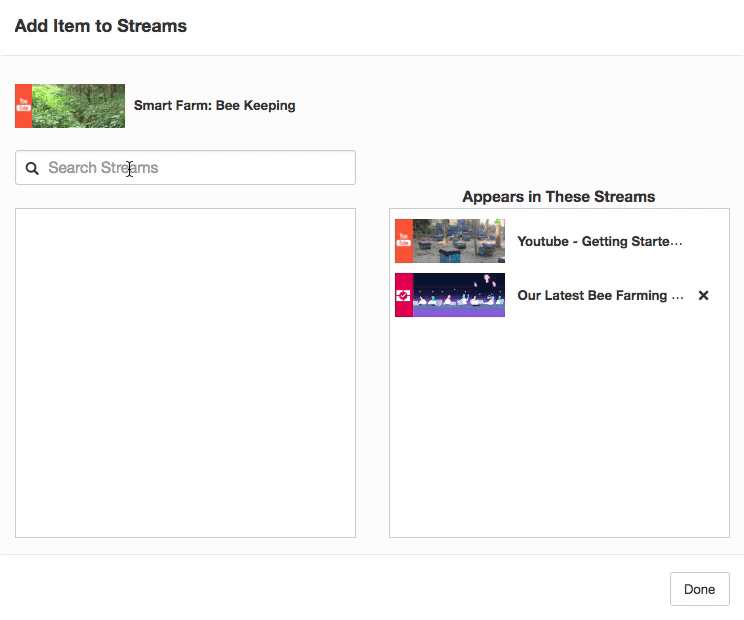 Tag and Organize Effectively
Adding tags on the fly is now easier than ever. Easily add or edit tags without having to leave your Item Dashboard and use them to find the most relevant asset when you need it.
Discover more ideas on how to tag your content.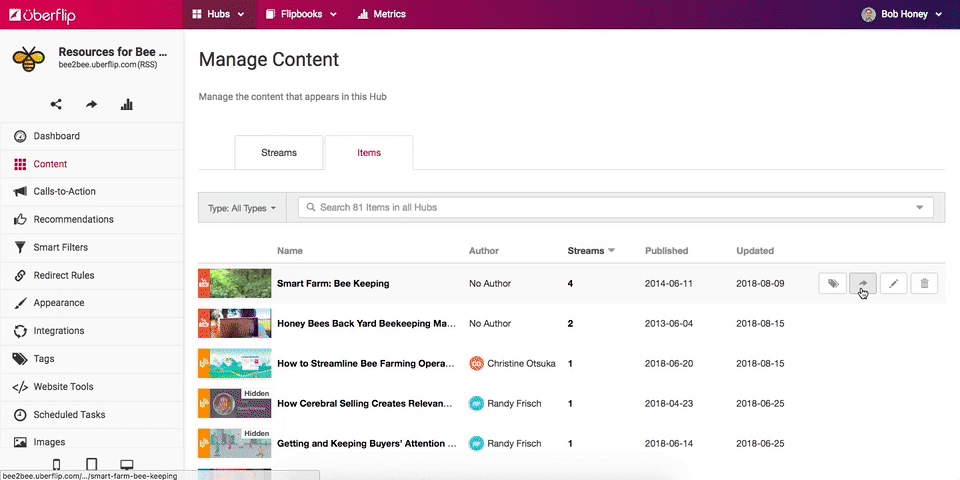 There are a ton of possibilities when it comes to extending the reach of your content across new experiences. The Item Management Dashboard is your new discovery tool to find, manage and repurpose your valuable content assets.
Have questions, concerns, or comments? Don't hesitate to contact our Support Team at support@uberflip.com or 1 (888) 694-2946.