Google Analytics is an extremely powerful (and free!) website analytics and reporting tool that can be integrated with your Hub to provide even more insight into your visitors' behavior. We highly recommend integrating Google Analytics with your Hub prior to its launch. Integrating your Hub with Google Analytics is a quick and easy process that should only take you a few minutes to complete.
Once the integration is complete, you'll be able to:
Track the referral paths of your traffic (i.e. whether someone came to your Hub from Twitter, LinkedIn, Facebook, paid advertising, or a search engine)

Map your visitors' behavioral flows through your Hub

Turn insights into action by tracking conversion events inside Google Analytics
Gain more insight into how any paid traffic you're sending to your Hub is performing
Benchmark your Hub's performance against other websites in your industry or vertical
If you don't currently have a Google Analytics account, you can sign up for one here.
If you already have a Google Analytics account, you're ready to go!
Setting up your Google Analytics Account and Integrating it with your Hub
If you have an existing Google Analytics account
If you already have a Google Analytics account set up, you have two options for tracking the analytics for your Hub:
Add your existing UA Code (for example, UA-123456789-1) to your Hub, and then use a segment to view your Hub's analytics.
Add your Hub URL as a new property, and generate a new UA Code (for example, UA-123456789-2)
When deciding between using your current website GA property or creating a new property for your Hub, it is important to consider whether you would like to track visits to your website and Hub as one session in GA or as separate sessions. You will also want to consider what you would like listed as the referral source. So....
If you want Google Analytics to recognise that movement between your website and Hub is all part of a single 'session', use the same UA code as your website. It is easy to just view the analytics for your Hub or website using 'Segments'.
If you want Google Analytics to consider movement between your website and Hub as separate sessions and list your different sites as the referral source, create a new property and UA code. Learn more about creating a Web Property ID (UA Code) just for your Uberflip Content.
We see most clients opt to use the same UA code as their website. Something to consider is that you are likely to have the header from your website on your Hub and a link to your Hub on your website. This means that it is very easy for your visitors to move between the two sites and if you use a different GA property, this will result in multiple sessions.
Once you decide on the UA Code you will be using, you will need it to set up the integration with your Hub.
If you created a new Google Analytics account
If this is your first time setting up Google Analytics, you will need to create a new account, and add your Hub's URL. This will be the custom domain that you've set up for your Hub. For example, http://subdomain.yourwebsite.com/. Make sure that you correctly identify http or https for your Hub as this can prevent verification.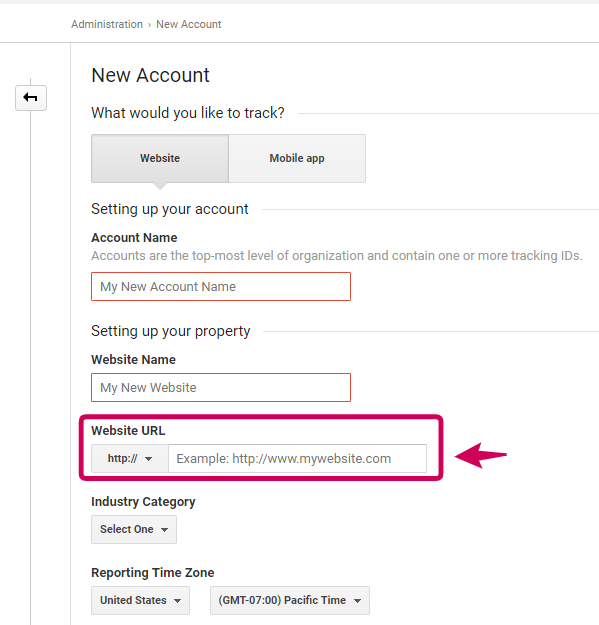 To find your UA Code, click Admin and then Property Settings.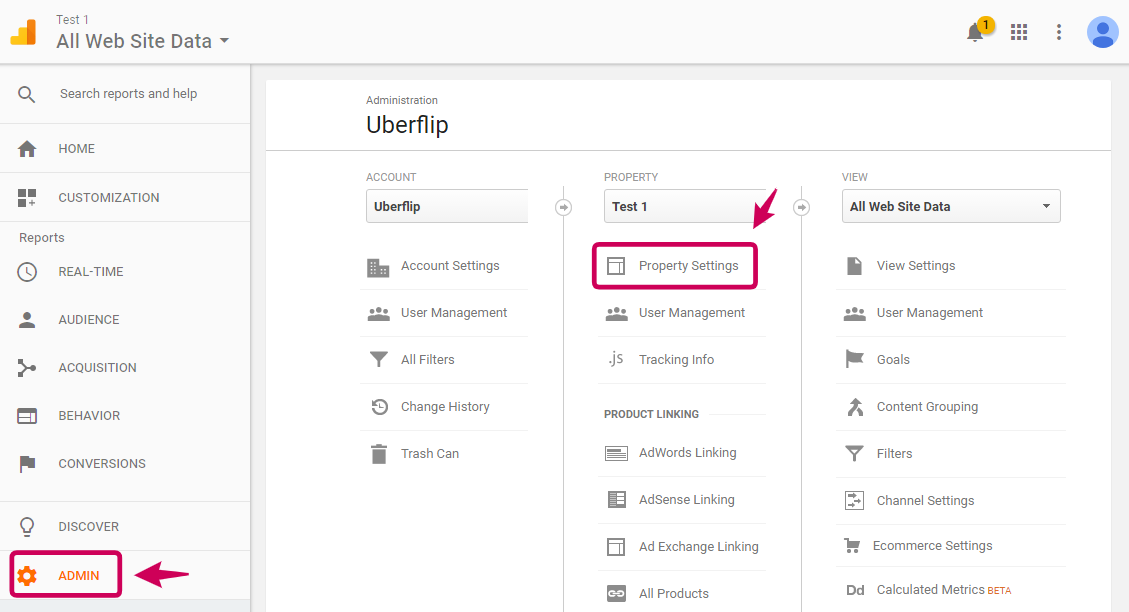 Integrating Google Analytics with your Hub
Login to your Uberflip account, select Integrations and Connect your Google Analytics.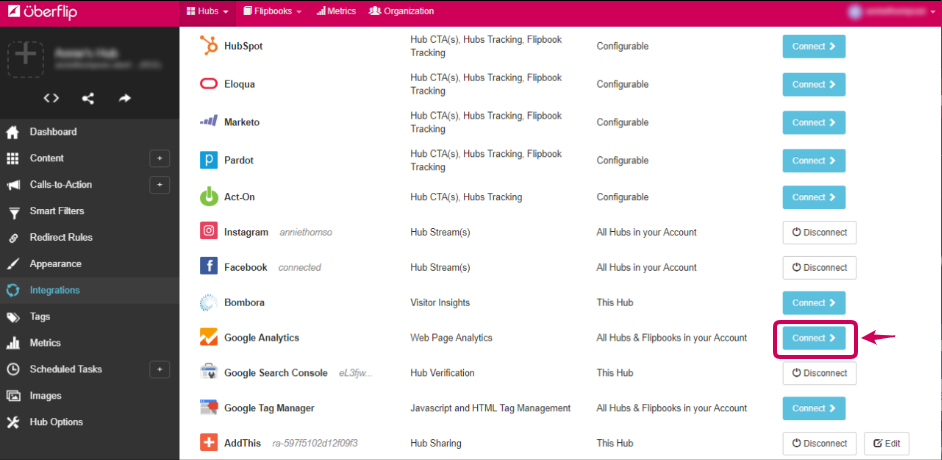 Paste your UA Code into the field, and click Connect.
Your Hub is now integrated with Google Analytics!
How to Find your Data in Google Analytics
Google Analytics provides many ways to track your content. One way is through the 'Behaviour' tab, where you can access page views, average time on page, etc.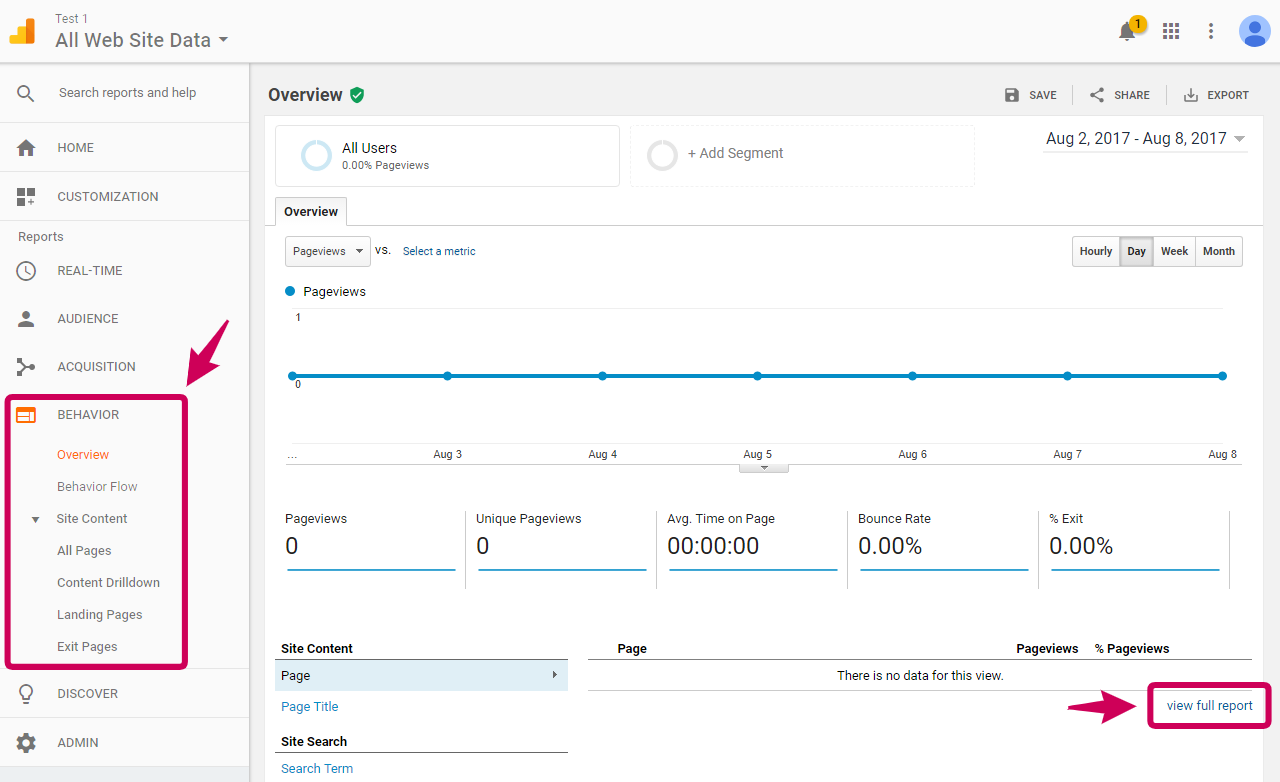 All Pages will provide you a list of all the pages of your site that have been viewed during your specified date range. You can specify by Page or Page Title and the data for each page will show you:
Pageviews: The total number of pages viewed. Repeated views of a single page are counted.
Unique Pageviews: The number of sessions during which the specified page was viewed at least once. A unique pageview is counted for each pageview URL + page Title combination.
Avg. Time on Page: The average amount of time users spent viewing your specified page or screen, or set of pages or screens.
Entrances: The number of times visitors entered your site through your specified page.
Bounce Rate: The percentage of single-page sessions in which there was no interaction with the page. A bounced session has a duration of 0 seconds.
% Exit: (number of exits) / (number of pageviews) for the page or set of pages. It indicates how often users exit from that page when they view the page.
Page Value: ((Transaction Revenue + Total Goal Value) divided by Unique Pageviews for the page)
Content Drilldown provides similar data to All Pages, except it's broken down by sub folder, or website section, such as your blog.
Landing Pages will show you which pages users entered your Hub on.
Exit Pages are the final pages within user's visits, and the pages that are more likely to lead to exits.
Note: At any time you can view a full report on a specific page or piece of content by viewing view full report in the bottom right-hand corner.
How to use Google Analytics Filters with Uberflip Content
By applying a Filter to your Web Property (UA code) or View (profile) on Google Analytics, you can restrict the data in your reports to only show traffic to a particular Flipbook or Hub, or to exclude traffic from particular IP addresses or to only include data from specific subdomains.
*NOTE: When a Filter is applied to a View and data starts to propagate to Google Analytics, any data that is filtered out is NOT recoverable later within that Profile (View). You can create multiple Profiles (Views) and Filters to ensure you get the data separation you require, and keep the main default Profile (View) to collect All Web Site Data.
Step 1 - Log in to Google Analytics
Go to the Admin Section and choose the Account and Property.
Step 2 - Choose the View You Want to Apply the Filter To or Create a New View
Step 3 - Click on 'Filters'
Select the Account and Property you set up for your Hub.
Select 'Filters'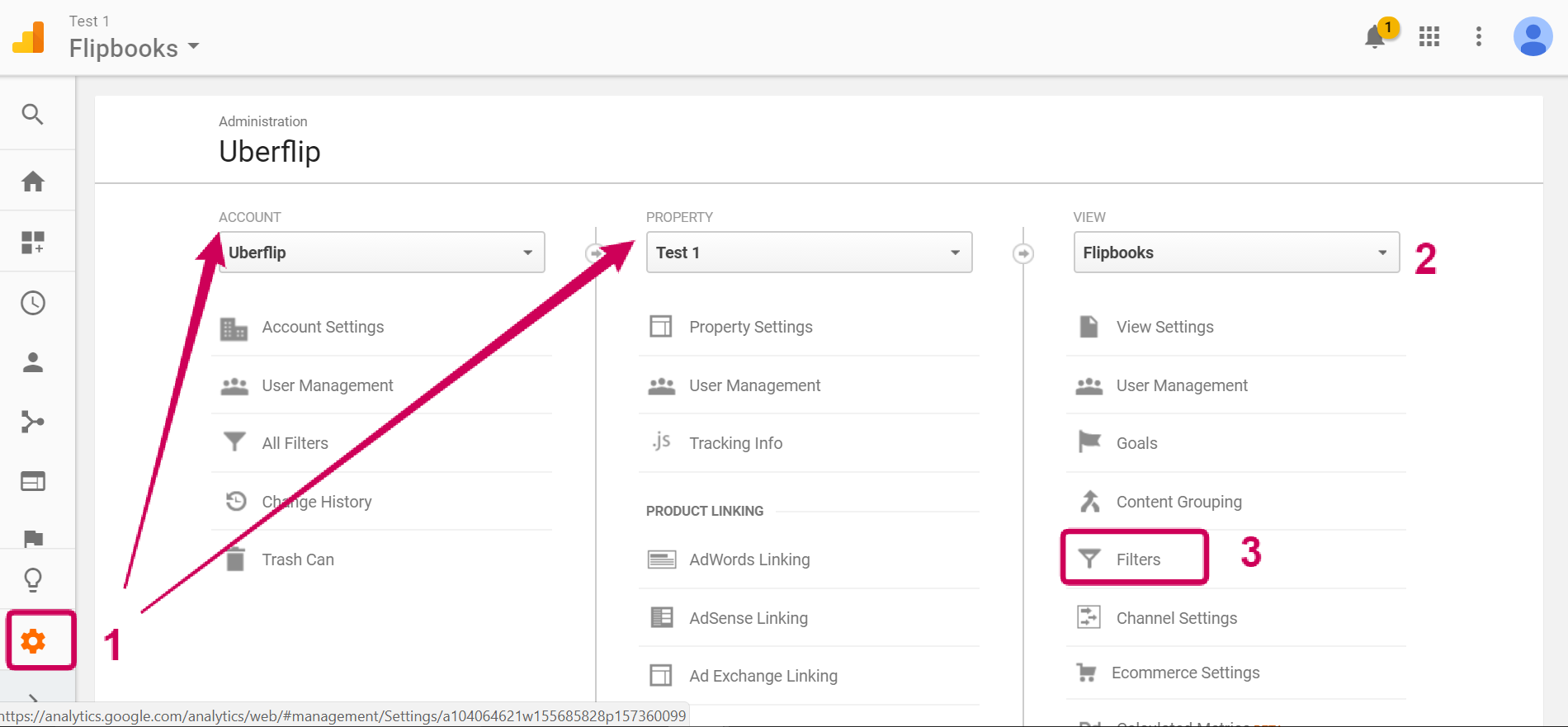 Step 4 - Click on '+ADD FILTER' Button

Step 5 - Create New Filter and Configure
This will need to be adjusted based on your required preferences for the Filter.
We use your.domain.com/i/ to denote any traffic to your standalone Flipbooks.
NOTE: If you are seeking to track a STANDALONE FLIPBOOK, you'll need to enter the full URL into the "Filter Pattern" Field. For example, your.domain.com/i/XXXXXX.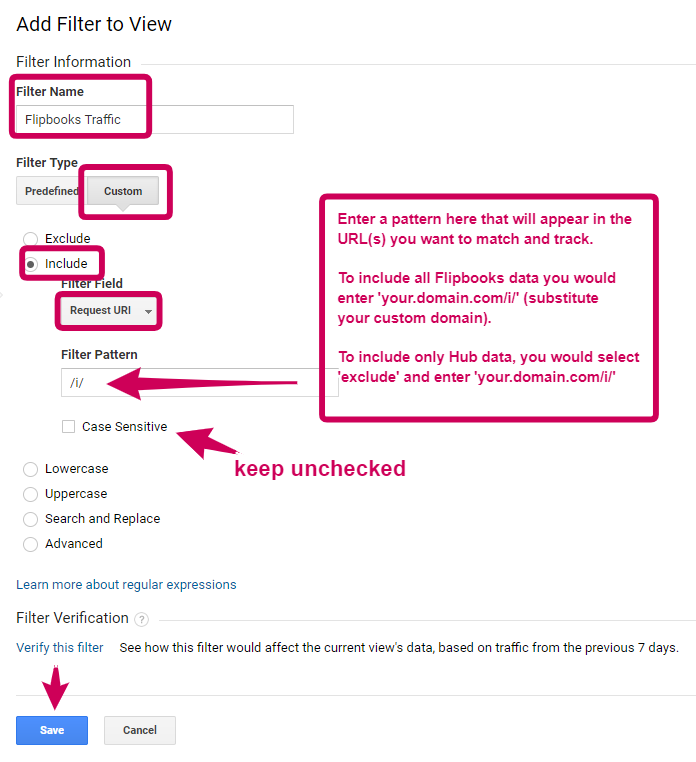 Filter Tips
Give your filter a meaningful name for easy future reference; and

To ONLY count traffic to certain Hubs, Flipbooks, Folders, use the 'include' option, with the 'Request URI' Filter Field. Then within Filter pattern you can include your Hub's Stream/Item IDs or Flipbook/Folder IDs. Separate multiple IDs via the pipe character (|).
Have questions, concerns, or comments? Don't hesitate to contact our Support Team at support@uberflip.com or 1 (888) 694-2946.