Looking for more control over what shows up on the home page of your Hub? YOU GOT IT!
It's super-easy to use a Marketing Stream as your Hub's home page! Once you've carefully crafted a Marketing Stream and are ready to show it to your world, follow these easy steps.
Step 1 - Open Hub Options.
This will be in the menu on the left side.
Step 2 - Look for 'Content Experience' on the Advanced Hub Options page.
Look for the drop down menu beside 'Replace Home Page with a Marketing Stream'. Your Marketing Stream will be in that menu.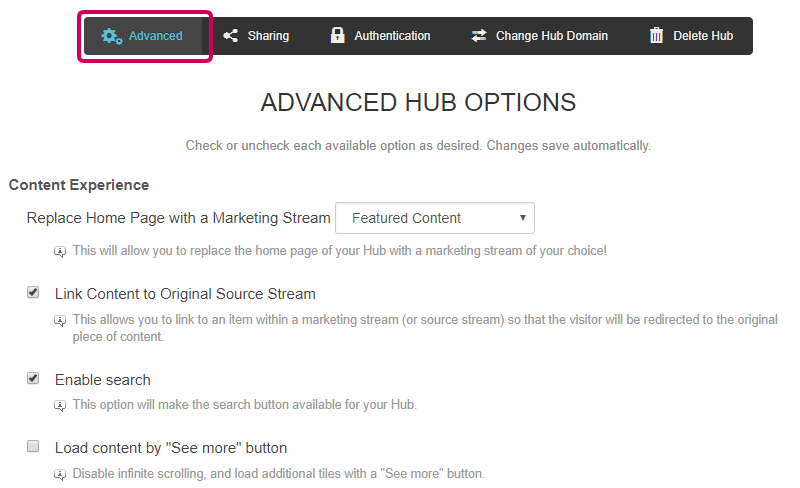 Step 3 - Watch Uberflip Save Your Changes.
Once you choose a Marketing Stream for your Hub's home page, a green 'Saved' button will slide up from the bottom of your screen letting you know your changes have been made.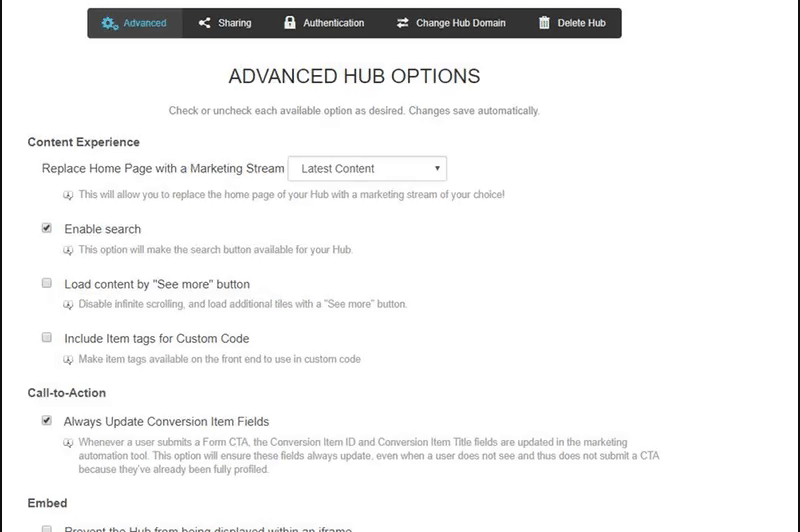 Now, when you go to your Hub's Home page, it's magic! You'll see the Marketing Stream you chose.
Your Options
Underneath the 'Content Experience' heading in 'ADVANCED HUB OPTIONS', you'll notice a few options you can activate or deactivate for your Hub's home page.
1. 'Link Content to Original Source Stream'
If checked, when a user clicks on an Item, they will be taken to where the Item was placed originally, and not to a link in a Marketing Stream.
2. 'Enable Search'
If you want to remove the option for your visitors to search the Items in your Hub's home page, un-check the box for this option.
3. 'Load content by "See more" button'
This option controls how visitors see more content - if unchecked, your Hub will infinitely scroll to show more Items (until there are no more to show).
If checked, a blue 'See More' button will show up, allowing visitors to view more Items in the Stream.
Things That Are Good To Know
All Marketing Streams will show up on the home page - even if they're hidden!
All CTAs stay with the Stream they've been placed on / in. So if you place a CTA in your Latest Content Stream, and then choose a Marketing Stream for your Hub's home page, that CTA will not show up! Think about what you want on your Hub's home page first, then place your CTAs.
Your Latest Content feed will always be around if you try a Marketing Stream for your home page, but want to go back.
The title and description of your Marketing Stream will not display on your Hub's home page. You'll need to update the Custom Label for your Latest Content.
Got questions? Comments? Opinions? Let us know in the comment section below, or contact us!