Streams ensure that your content is organized in a way that makes it easy for your users to find and digest.
By default, Streams will organize your content based on type. But the use of our Marketing Streams feature allows you to tailor your content categories and strategically serve your content to your target market or buyer personas.
Marketing Streams allow you to add individual items from your Hub into a single stream. Here at Uberflip we use Marketing Streams throughout our own Hub to break down different marketing automation categories.
For example, if I know that you use HubSpot, instead of sending you ALL the content around marketing automation, I will send you the direct link to the Marketing Stream containing everything you need to know about HubSpot and Uberflip.
This allows me to know you are receiving the content that applies to you and your needs, instead of a generalized overview of all the marketing automation content we have.
Every pack type with Uberflip allows you access to Marketing Streams, and once all your content is imported into your Hub, you can start segmenting the content and directing your user experience the way you want!
This will allow you to view all the Marketing streams you have created, and begin to separate your content to your direct buyer personas.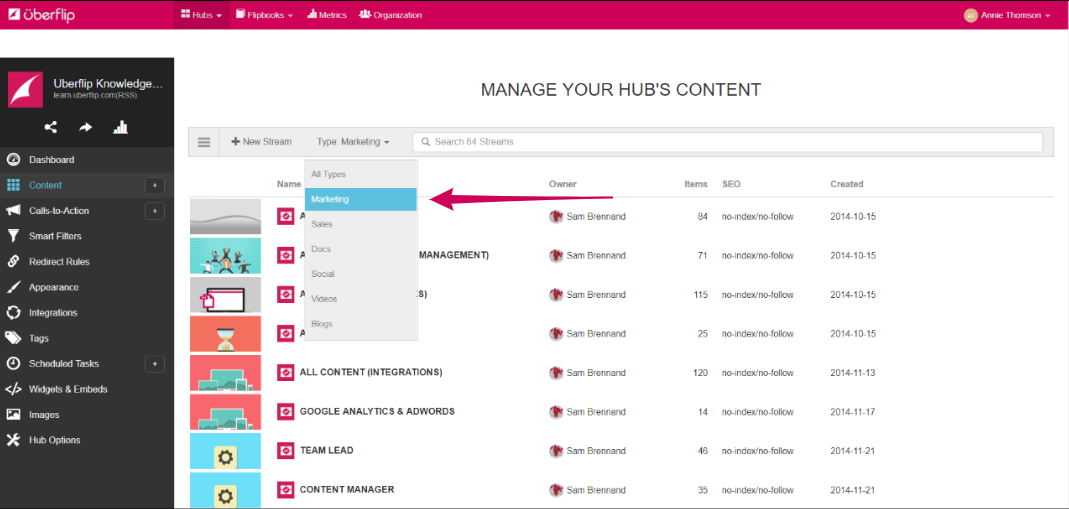 You are then able to go through and view each and every Marketing Stream that you have created within your account. This also will allow you to add new content to each Marketing stream as you see fit. So if a new Video comes out that will affect our users in the Developer/Designer stream, we can add that video manually to the stream through this method.
Updated February 23, 2017